No more smelly, wet shoes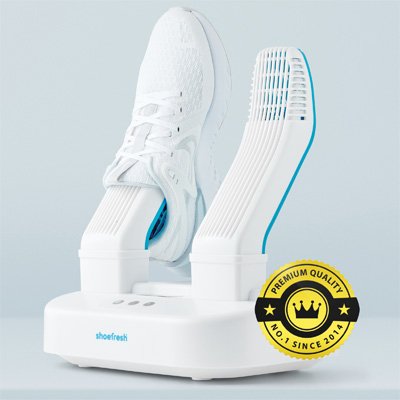 Finally fresh and dry shoes
No more smelly shoes in the house. Removes bad smells, bacteria and fungi.
Never put on wet shoes again. No more hassle with newspapers.
Easy and fast: starts and stops automatically. Ready in 25 minutes.
Hygienic and clean: Recommended by pedicures. Effective against athlete's foot and fungal nails.
Shoefresh for many applications
The cleaner and dryer of your...
This is what customers say
55,000+ satisfied customers

9.5
This is what customers say
Indispensable for (top) athletes
"I train very often and play a lot of matches during the year. With the Dutch national team we often train twice a day. After the first practice my shoes are soaking wet. Previously I had a problem and had to start my second practice with wet shoes... Thanks to the Shoefresh this problem is solved. I now start every match and training with fresh and dry shoes. The Shoefresh is highly recommended for (elite) athletes!"
- Billy Bakker, captain of the Dutch hockey team
The experts about Shoefresh
Recommended by 3,300+ pedicures in the Netherlands and Belgium
"Almost one in three people will suffer from fungal nails or athlete's foot. In particular athletes and the elderly have an increased risk. Once you have contracted an infection, it is very difficult to get rid of. Fungal spores are very persistent. They can survive very long in warm, humid areas such as swimming pools, and of course also in shoes. For a successful treatment it is necessary to clean and dry your shoes regularly. I recommend the Shoefresh as part of an effective treatment for fungal nails. For my clients with severe infections, I see that their complaints are significantly reduced by using the Shoefresh."

- Pauline Dullaert, Medical pedicure
Convince yourself
Try shoefresh for 30 days
30 days money back guarantee